"Can you dig it?" Said the Republican ground hog to the Democratic mole. "It's cool down here in our bunker holes. I mean, out in the blazing sunlight of truth we'd cook down to the last tooth, but down here we're as good as mossy covered stones." 
"Oh no you don't", said the eagle swooping down. "Your clown show is over. There's a new sheriff in town."
"What the hell! What the hell! Have the Capitol Police ring the fire bell."
"Too late, you lazy vermin scum. The party game is over; I'm throwing out the bum. The blood of a million patriots drips from his lying, narcissistic lips. Or have you all suffered a massive concussion? Donald is leveraged by a rat poisoned Russian. "
************************************************************************************
Indignation, to begin with, requires dignity that is then negated. And what is that, you ask?  Here's a taste. It might startle you because we haven't seen or heard much from dignity in years. It has been missing in action and presumed dead.
dignity

, the state or quality of being worthy of honor or respect.
"a man of dignity and unbending principle", from Latin

dignus

, meaning worthy
Bob Dylan wrote a song about Dignity a long  time back. These three verses will have to represent the total…
Searchin' high, searchin' low
Searchin' everywhere I know
Askin' the cops wherever I go
Have you seen dignity
Someone showed me a picture and I just laughed
Dignity never been photographed
I went into the red, went into the black
Into the valley of dry bone dreams
So many roads, so much at stake
Too many dead ends, I'm at the edge of the lake
Sometimes I wonder what it's gonna take
To find dignity
To lack worth, then, is to be
undignified
…
appearing foolish and unseemly; lacking in dignity, 
say, for instance walking in front of a foreign Queen while reviewing her troops at her royal palace while being entertained at a level one does not deserve, to begin with. Yep, he did that. Absolutely unconscious of others and protocol. He needs no stinking primer in how to behave. It's a freaking miracle that he didn't grab the queen by her pubic hairs, because, "When you're a star, you know, they let you."
But even more telling of his putrid gracelessness was the NATO shove of the dude from Monte Negro last year. Totally classless and grasping for stage center. 
Pig, pig, pig in a hungry race for his ego pie.
So now we have one nation under Don, the nation of in dig. Crude, crass, mendacious, petty, hypocritical, and so on. Words fail to capture the nauseating revulsion in the nation's guts; we are reduced to dry heaving. There is nothing left to upchuck. He meant what he said in the campaign,
"My people are so loyal, I mean, I could stand in the middle of Fifth Avenue and  shoot somebody and I wouldn't lose any voters."
I have to agree with the man.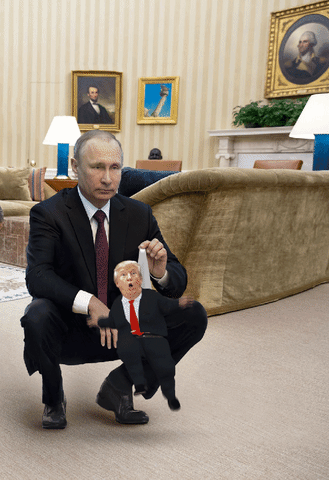 Oh, look! Vlad has him in a walking wedgie hold. So, I guess Vlad could shoot all his supporters on Fifth Avenue and not lose any votes either. Man, where do I sign up for that team? Makes sense as much as anything else the troll has uttered in the last two to three years. Make that a lifetime.
Trumpeteers, for God's sake, what more do you need to see, hear, feel, reason out, process? Wait, what am I saying? For the true blue believer in the MAGA hats and tee shirts, no proof is ever enough to break the cultic bonds. They will die in the bunker with their Fuhrer. Burn in the house with Waco Whacko David Koresh. Drink the Kool Aid with Jim Jones in Jonestown, Guyana.  Forget that. What was I thinking? What nation was I digging into? Trump nation is not so different from North Korea without the big Chrysler hubcap general hats. Don not so different from Kim, Vlad, Erdogan, Duterte, and other dictators, just not as clever or strong. His problem is the underlying inconvenient deep state democracy of this country and that pesky free press. Down below the sycophantic hogs and self serving Congressional moles, we have a Constitution that supersedes the man holding the office of president. Somewhere in the fractured red and blue states dignity is rising from its grave. Outraged and indignant at the circus clown who escaped from the New York zoo to run the U.S. government… and those who should have known better.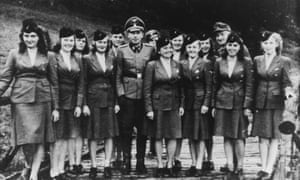 In Fascist states after the fall of the Great One, the once rabid fascists change the subject to the lovely weather and away from their previous alliances. They move to South America, change their names, deny facts. They say things like, "Those were different times". Time is what we make of it, folks. If we listen to dark, divisive urges and practice victim politics, we reap the harvest of chaos, which always ends with bloody hands. Hosea 8:7 is familiar and haunting,
"They sow the wind and reap the whirlwind. The stalk has no head; it will produce no flour. Were it to yield grain, foreigners would swallow it up.
Donald's claim to fame was The Disrupter, like some WWF pro wrestler's name. In a viral gif his image slammed the characterization of the free press, CNN. But those were the heady days of campaigning where anything goes to please the rabid crowds, the scared, the shrinking, the huddled asses at the foot of Indignity. His favorite and only tool in negotiations? The hammer mace of Chaos. Attack the other, and then at the hairpin turn, praise him/her after achieving precisely nothing. Relabel unwanted old ginger ale as champagne and jack up the price. His beloved, deranged followers will not know the difference. "Heck, he said it was champagne and that's good enough for me."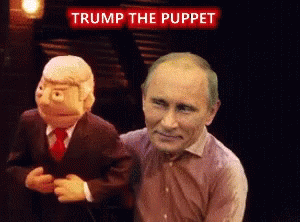 And now we have the uncaged baboon nodding as our country's snake eyed adversary denies any negative actions toward us. The Don makes his simian grin and announces in gibberish talk, "Heck, he said it was champagne and that's good enough for me."
Dig that, nation.