We are in a new era where there are no more scandals. Read my lips: no new scandals. Why is that? my inquiring blog squirrels ask. Because we are now living in a post scandal world. Nothing is shocking or disturbing anymore. And there are many contributing factors to the late appearance of scandal less living.
First on the hit list is the 24 hour news cycle. When everything is breaking news, then nothing is breaking news. Fatigue sets in. Too much coverage of tsunamis leads to tsunami fatigue. Too much coverage of racism, feminism, militarism, and any other -ism depletes one's ability to focus on any one of these important issues for more than a few seconds. There was a time long ago when the evening national news lasted for thirty minutes. That's it. Everything you needed to know was encapsulated in thirty minutes, minus 5 minutes for commercials.
News then was hard, straight forward. No reporter ever asked someone how he/she felt. That didn't matter. Hard news included body counts from the day in Vietnam or domestic bombings at home. Crime and drug use came in third and fourth place. What happened in Hollywood never made the cut. However, in the modern cable news era lots of soft "news" gets tossed into the mix as crouton filler to stretch out 24 hours of programming word salad, minus 2-3 hours of commercials.  One result is that breaking news is repackaged every half hour, and the viewing audience is desensitized. It all coagulates into a mind numbing mindscape of white noise.
Along the way as news blurred into constant entertainment, news anchors became celebrities, prostituting their journalist selves for glamour and glitz. They appeared as guests on late night comedy shows or daytime talk shows in order to groom their lighter, brighter, charming celebrity sides. Along this same slippery path opinions and feelings subliminally clouded out facts. How things felt got more airtime than the actual, factual events of the day. Consequently the news became emotionally charged and directive toward moving a certain affective narrative instead of merely reporting the truth. Earthquakes and hurricanes and political upheavals coverage turned into nonstop soap operas as the new school of reporters crafted a gripping narrative instead of just reporting objectively. The many competing reporters often violated rule one of journalism: they became part of the story. Anderson Cooper was punched by some Egyptian dudes during the Arab spring uprisings in Cairo, Egypt and that became the news. In Haiti the effect of the earthquake's devastation on the reporters or their involvement in the rescue became the story. Framed as Human Interest angles, they grabbed at emotional testimonials first; facts came second or not at all. Certainly there is a place for such stories; it just does not belong under the label "News" any more than this post belongs there.
Our standards have become saturated, maybe bloated is more appropriate, and have sunken lower than we ever imagined possible. If you look in the water tank of your toilet, there is a float of some sort, a ball or a styrofoam cylinder. [ I'll just wait for you to check. Okay, now let's continue.] Over time these things deteriorate and lose their buoyancy. That's when you will hear the trickling of wasted water gurgling down the overflow pipe, as the float drops and initiates an unnecessary refill every few minutes. Wow! That's like Breaking News!!! when actually it's just a faulty standards float that needs to be replaced. Say what?  Yeah, when our public discourse is cheapened, personalized, coarsened, i.e., loses its buoyancy, etc. what had been a decency standard gets flushed down the toilet.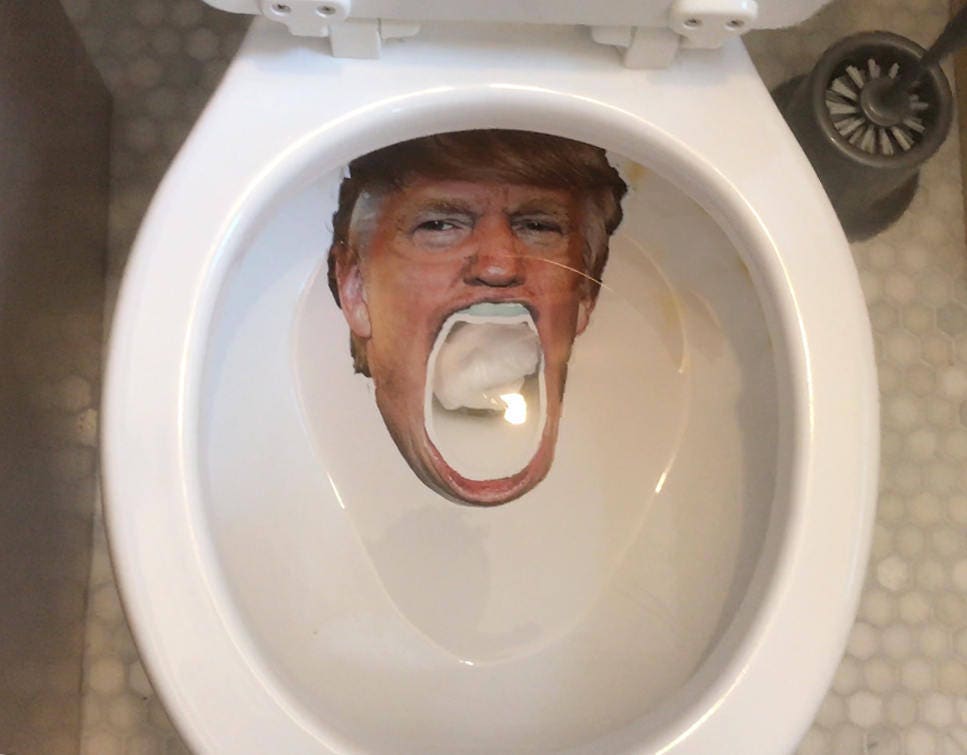 So constant details about sexual harassment and assaults by men in power numb the viewers to the evils of both. The individual horror of one act is diluted by the vast epidemic of me too after me too after me too.  Just to make my point further, me too. One would expect an increased revulsion as the number of Bill Cosby's accusers passed fifty. Instead, I believe the long, drawn out trial coverage and Cosby's empty denials just numbed out viewers' minds like his Rohypnols numbed his victims' muscles and memories. Which scandal was most scandalous?  The fact that he got away with all those rapes? Or the power he wielded to avoid prosecution for so long? Or the scandal that a person of wealth and celebrity can ride unfettered above the law? Do you see what I mean yet? With so many scandals to focus on, it becomes a carnival game of Whack a Mole among the 16 competing scandals de jour. And when it finally came to our known Misogynist in Chief, hey, it was a civil matter, no crime, despite all the lies, cover ups, and even his infamous "You can grab'em by the genitalia when you're a star. Anything goes" tape. It was just another order of fries at McDonald's.
The shock lasted about as long as a shot of novocaine. The pain and insult drifted away in all the repetitive outrage and gobbledy gook that came afterward. Like the Space Shuttle explosion on endless video loops or the twin towers collapse over and over again… it comes to the same thing: Desensitization not appreciation of the tragedy. It's been called news porn at times because tragedy is sensationalized and exploited in a way similar to how real persons are exploited and monetized in the arena of sexual pornography. And when the two actually overlap, then the ratings pop, as viewers become willing voyeurs of voluptuous female objectifications and the titillating details of Stormy and Karen.
Poor girls hardly have a thing to wear.
The behavioral psychologist B.F. Skinner predicted that television would continually devolve toward more violence and sex and putrid shocking behavior in order to keep the audience attending to it. It appears that the jury is back in session. The verdict?  guilty as predicted… and I can't even call it scandalous because that word has no meaning any longer.  I imagine my grandkids one day asking what the concept once meant…
disgraceful; 

shameful 

or 

shocking; 

improper.                                                                

" "Grandpa, Is that like a wall phone or a dinosaur?"
"Yep, kids. It was a teradactyl that ate all the morals of a decent society."