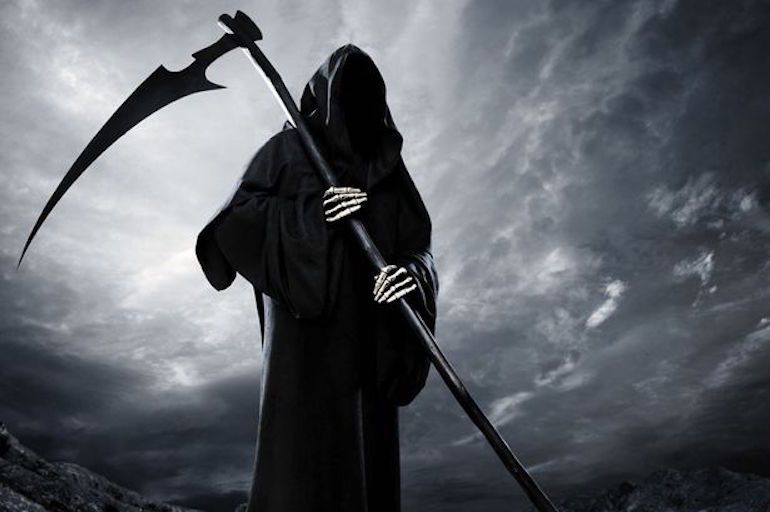 He comes to us all, mostly unbidden. A small number of humans rush toward Death for a variety of reasons, but most of us wait patiently though anxiously for his arrival. He's not exactly bringing an Amazon Prime deal to your door. I recall the medieval morality play called Everyman, circa 1400 A.D. In this allegory Everyman is unexpectedly called upon by Death. He resists and tries to bargain with Death. He's just not ready to die. Really, who is? Death plays along and agrees that Everyman may bring along a companion if anyone was so foolish to accompany him.  That's when the dense Greek yogurt tragedy hits the high speed oscillating ceiling fan. Surprise, or not. No one wants to go there with Everyman— not family, not friends, not his wealth, beauty, knowledge, five senses, etc. In the end, after confessing his sins, repenting, and taking communion, only his Good Deeds go with him into the grave, leaving a powerful moral lesson for illiterate minds in the audience: do good while you are alive. It's all you take with you into a blessed eternity. Into the cursed coal mine, not so much.
Now I don't want to get into a debate about works/deeds versus grace for the basis of one's salvation. Rather, I'd like to simply visit two dying men and observe how each deals with the same problem that every man and woman must one day face.
Boris Khazanov is the the local commissioner of the Bulgarian cooperative farm system. He is well known and respected. One of  the few former Communists who managed to still appeal to the current democratic atmosphere in Bulgaria after the end of Communism in 1991. He negotiated his way into the National Assembly where he served without scandal for 24 years. Along the way he amassed a lot of favors and a tidy fortune, as well as a strong sense of entitlement that he kept hidden from the public.
Boris eventually left the Assembly with a fine pension and favors to cash in. He was appointed to foundations and bank boards around Sofia. These positions paid him handsomely for little to no work. You see, he had already done the work in the National Assembly with sweetheart deals for his favored compatriots. He was free to attend to the secret business of the Bulgarian Knights Templar Association and play the cello in the Comrades of Sofia Symphony.  Life was delicious and quite lucrative for Boris. He was in demand at conferences and cocktail parties all over the country… for a price– cash, credit, debit, or quid pro quo barter.
When Death sent him an invitation at age 79, he was shocked. How could he stop all of his life's engagements and go wherever Death was going to take him? He was needed and expected to carry on his precious work on earth. Death, however, was not impressed with any of his arguments. He left his appointment card on Boris's bedside table– July 20th at noon. Boris's wife turned it over in a rash moment of denial, but the other side said the same thing, so she covered it with a gold-rimmed saucer. Surely their lawyer would advocate for him and work out an extension just as their accountant did with taxes each year. After all, they were the Khazanovs.
Deputy Attorney Galilnovalov came the next day, the 19th. He assured the Khazanovs that Death was non-negotiable. No one had ever escaped Death's greedy grasp. He counseled Boris to let go of his large life with dignity. Boris was perturbed. He was a man of power and prestige, used to getting his own way. He refused to sign letters of termination and resignation. He would not resign from his many associations. It was tantamount to agreeing with Death. The next day at two p.m. Attorney Deputy Galilnovalov received a call from a sobbing Mrs. Khazanov that Boris had died in a fevered seizure around noon, "it was as if Death himself were choking Boris into submission", she reported hysterically. "There was a faint odor of sulfur. He would not let go!" Galilnovalov was not sure who would not let go.
Galilnovalov could not help but compare Boris with his other long term client Gerislav Bukhalov, who was also bedridden. "Gerry" knew Boris from the farm cooperative days. Gerry, however, had always been a worker bee and never a commissioner. He farmed under Communism and under Capitalism. He knew and loved the land he stewarded. Unlike Boris Khazanov he had no pretensions about him. He rarely left his farm and practiced a simple faith as most farmers are wont to do. He was completely dependent upon the whims of nature for his livelihood. And more years than not he prospered, increasing his hectares and head of cattle carefully over the decades. Sadly, his wife of 47 years had died eight years previously, leaving Gerry alone but resolute in his simple faith of planting and hoping for a harvest. Now his end was near at 83 years of age.
Galilnovalov enjoyed his time in Gerry's presence. He looked forward to tea and hard bread at Gerry's bare kitchen table. Unlike Khazanov's ostentatious surroundings, Buhkalov's farmhouse was austere, with just a smattering of icons on the otherwise barren walls. When Death sent his invitation, Gerry was not surprised or devastated. Instead he set it next to his shaving mirror. He was actually relieved to finally be off to see his beloved wife in eternity. He told Galilnovalov that he was ready, in fact, had been ready for the previous three years. Over this time he had signed off on his will and donated his considerable wealth to local charities and his church. His great nephew would take over the full time operation of the farm and move into the farmhouse after his passing. "I will not wrestle with Death when he comes for me. I am eager to go", he told the amazed Gulilnovalov. "After all, I take nothing but my good deeds with me, my friend."  Gulilnovalov served as his postmortem witness and swore to men who would listen that he detected a hint of frankincense after Gerry passed his last breath.