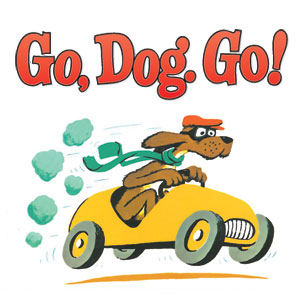 One of my children's favorite bedtime stories was a simple book called Go Dog Go by PD Eastman. It was/is so uncomplicated and innocent, just like childhood should be. Dogs race around in cars and stop at this absurdly large tree canopy to party like wild dogs. Through out the nearly plotless story two dogs meet sporadically and the female asks the male, "Do you like my hat?" to which he replies, "No" and then they race off while the narrator says, "Go Dog Go". Wonderfully childish stuff. The climax of the book is when the male dog finally says, "Yes" to the female's last hat offering and they go together to the tree party. Silly, simple, unsophisticated. Only a child would enjoy such a book.
Singularly uncluttered illustrations left a lot of empty white space on each page so that the dogs in their cars were unmistakable. Lots of room too for a little girl with baby shampoo scented hair to lean against her dad and point to each silly dog with a tickled fascination. Which often led to a bit of real tickling and giggles. Sure, we know dogs don't talk, drive cars or climb tall ladders into a cloud-like tree canopy to party, but we suspend some of what we know to sample little pizza slices of fantasy. Our little ones have less knowledge to suspend so it's easier for them to fall upward into fantasy.
My grandbaby called me Dinosaur Grandpa recently during a Skype session. I didn't catch the connection to any experience until her mom, my daughter, said, "Don't you remember chasing Leah around the house at Christmas, pretending to be a dinosaur? You were going 'Roar!! AAARGGGHHH!! Blaaaaaa!!'and crawled after Leah as she shrieked for her tiny life." Well, yes I did, but I didn't realize that would be a lasting distinction for her two months later. Makes you wonder about what the lasting impact of bad behavior would be on a little girl's pure mind. (Scar tissue holds such children in thick bondage to past pains. Trust me on this one.) It's a funny dance we do with our vulnerable ones who want to be chased and scared one minute and cuddled and reassured the next. Somehow, like coyote pups fighting one another in their mother's den, our toddlers are hardening their knowledge of the big bad world, practicing safety and seeking security in fantasy play with trusted playmates.
The Wizard of Oz was a scary favorite movie for my kids. Watching as an adult is an entirely different experience than a five year old's experience. The wicked witch was so real to my kids in their innocent worlds. They would curl up in a growing revulsion of Miss Gulch and then the Wicked Witch herself. Of course my girls identified with Dorothy and her magical ruby slippers, "glitter shoes" as my Jessi would call them. She had to have a pair of red glitter shoes. Once at church she tried to take a pair of gold glitter shoes off another little girl's feet. Funny thing about those ruby slippers of Dorothy:  they protected her and drew deathly attention at the same time. Why is it that being a pretty girl with blingy shoes makes you both favored and targeted simultaneously? Not fair, but girls learn to harden themselves against the wickedness of the world. It's not just in a movie.
Anne of Green Gables was a powerful series for me and my girls. Megan Follows stole our hearts along with all the cast in the Wonder Works tele-version of the classic series. We hated Rachel Lynde, the nasty nosey neighbor who warned Murilla  "orphans will poison your well", planting the seed of doubt in stoic Murilla's thinking. She mocked Anne's red hair and lit her anger fuse. Quietly, though, Anne found comfort in Matthew, Murilla's bachelor brother. He accepted and loved her, it was clear. My girls fell in love with these characters, and all of us wept when Matthew died in the story. This experience was not so much fantasy, though it was not real. Like some folks do today with Downton Abbey, we used to cancel competing activities so that we could be home on Sunday evenings to watch the next installment of Anne, our new best friend. We even once planned a trip that we never took to Prince Edward Island. It was just too expensive or we were too strapped financially. Oh well, I hope to be present with my granddaughter when she meets these lovely characters. Perhaps we will finally make it to PEI after all.
All three of my daughters became big readers, which pleases me to no end. Reading good literature is like crosstraining for your mind. You meet the most interesting people and places and time periods in novels. Whether it's To Kill a Mockingbird, another dark favorite that pits childhood innocence against institutional adult racism, or Little House on the Prairie, my girls found enough reality traction that drew them in emotionally and intellectually to other times and places, hearts and minds. They will forever be different for the better because of these experiences. As good as the movies are, they never approach the novel's glorious gift of a limitless imagination. In the safety of a book's pulpy pages my girls could paint their own pictures of the awesome Laura Ingalls Wilder or brave Scout, creepy Boo Radley or wise Atticus Finch.
Here is my conclusion. It's a beautiful thing to watch your kids grow in knowledge, wisdom, love and experience, from the simplest to the most complex levels.  I'd gladly sign up for those days again with the hope that I would be wiser, more loving and patient the second time around.  I guess that's what grandparenting is all about, though. You get a do over with the next generation…
"Do you like my hat?"
"Yes, I do."
"Then let's go, Dog, go. Wooohooo, party on the tree top!!"
"Read it again, Granpa."
Whispering, "Will you chase me like a dinosaur."
Whispering  back, "Okay, ready?"
Nodding with grinning expectation and dancing eyes.
"Roaaaarrrr!! Arrrggghhhh. BLAAAAAA!!"
"No, no. Don't eat me."
"You better go, Dog, go."
"eeek shriek eeek giggle badabuump. All fall down."
The End.