As one year bulged its way into the next over the food and drink and presents and party people, I realized that I had not blogged in a couple of weeks. That tells me something: I must either be content or constipated. I know the latter is not true, but I need to ponder the former. Am I content?  I think so. I am full on many levels, fulfilled even. Maybe even overflowing in the sense that my cup overfloweth.
Lacking anxiety as well, because anxiety cannot be contained in contentment; it is a psychological gas that presses against the space it expands into. Anxiety is the steam of an overheated mind; brain sweat from the racing rat wheel of worry. This deformed child of worry makes one's eyes squint; pulse tick up; sweat seep; capillaries squeeze shut. Symptoms go on and on– the nauseated stomach, gas, reflux, insomnia, etc. All traceable back to the drip drip of adrenaline into a worried and worn out body. Raw fear.
And what motivates the rat wheel, you ask? The endless game of "what if?" that's what. Since there is no definitive answer to the "what if?" game, the cognitive rat brain simply runs faster and faster in order to keep up with its self imposed pace. "What if this spot on my back is cancer? What if  I can't get insurance? What if there is no after life?  What if there is and I wind up in Hell? What if I die on my next birthday? What if the country implodes? What if …?"
The rat is exhausted.
Oh, but the antidote to all this angst is the peace of mind, body and spirit that gratitude delivers. Truly, it is a gift that expands in melting paraffin waves of relaxation and fulfillment. Gratitude is a word derived from gratis, Latin for thanks. Thanks for what? Well, for what is; what has been; and what may likely be. Gratitude collects one's thoughts and feelings like random pieces of laundry. Gratitude washes the negativity out of each garment and sets it out clean and fresh again. Sort of like forgiveness. And whom are you thanking? The Gift Giver, of course. 
A young man once surprised me with an unexpected mini-lesson on gratitude. "Yeah, I'm doing okay with the lithium. This is the longest I've ever stayed compliant, you know. I do counseling twice a month, and that helps. I work out every day for an hour, no matter what. Overall I have a lot more activity in my life with more relationships. I can see that I was hibernating two years ago, but now I'm crawling out of that badger's den. But you know what is the most important factor?"
"Well, I'm guessing it's not one that you have already mentioned, yes?"
"Of course. I think gratitude is really powerful. More and more I see it in my life. When I am able to look thankfully at what I do have, I am filled with joy. And the funny thing is this: the facts of my life really haven't changed. It's my perspective. I knew this all along, but I thought there had to be more factors. But in theses last six months I've been focusing on the good in my life, my blessings, my living friends, what I can still do. And it's enough. Way more than enough. I can't easily get depressed when I am full of stubborn gratitude."
"Nice!  I agree. Gratitude is thankfulness for what you do have and who you are instead of moaning about what you lost or never had to begin with. It's coming to peace with who you are. Gratitude has no room for envy of others and how life should be ideally. Instead, the grateful look at what is and give thanks. It's living in the world you are in, in your own skin, and enjoying it."
"Yeah. I don't have a career anymore because of my bipolar, but I still have a family that loves me. I have my daughter, though her mom and I are divorced. I can still ski and play golf, work out, do manual labor. I have to do vigorous exercise some days to check my self, usually to force the energy to flow. If I don't pull the blanket back in the mornings, then I'm inviting the ticks into my brain."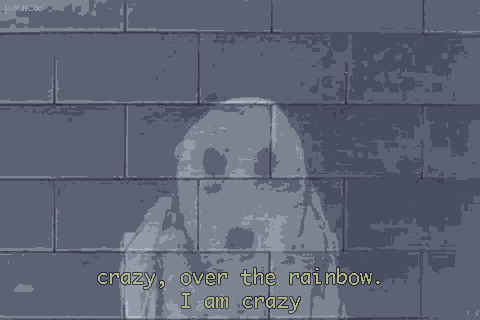 "Yep. Try this on for resonation purposes only… The what if?  cognition is steam, just vapor losing structural integrity as it expands. Droplets dissipate, then the molecules fly outward, and finally the atoms fly off their molecules, laughing at gravity."
"Okay, it's resonating like a Pink Floyd song."
"Exactly.  Worry births anxiety, anxiety births snakes in your guts, which birth litters of more worries, you know, all those ticks sucking on your brain, etc."
"Got it. Sounds about right."
No matter how he tried he could not break free
And the worms ate into his brain.
Hey you ! out there on the road
Always doing what you're told, can you help me
Hey you ! out there beyond the wall
Breaking bottles in the hall, can you help me
Hey you ! don't tell me there's no hope at all
United we stand, divided we fall.
"Those boys were often on the dark side of the moon."
"So true.  Still, I'm grateful to have their tunes on my shuffle."
"There it is again. Gratitude, dude. I love it."
"Thanks."
***Please take a moment to rate this post. Thanks for reading.