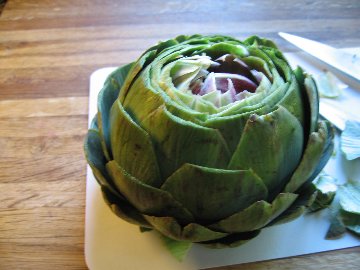 It wasn't last Christmas, so maybe two Christmases ago my New York City sophisticate daughter Erin was home for the holidays and was sharing some of her nifty NYC recipes. The first one was awesome. I believe it consisted of pan fried kale with sliced radishes and pumpkin seeds drizzled in lemon juice.  Perhaps I'm skipping bacon or some other delicious element. Anyway, it was delightfully tasty. For that matter so was the second dish she made for us.
It was Christmas Eve, as I recall. She was cooking down fresh artichokes, something my family never ate unless you count pickled artichoke hearts on a salad. There's some yum yum eating. I don't recall the other components, just that the end product resembled salsa verde or a thin split pea soup. Oh, it was tasty alright. As we sipped and sampled the soup, Erin offered this caveat:  "Some folks have gas reactions to this soup."  We reassured her that we'd be fine. We were going to Christmas Eve worship service after this early supper. Certainly we would not fart in the house of God. As the old Chinese fortune cookie joke goes, "Man who fart in church sit in own pew."
"Oh that is so good. I'll have another bowl." All of us approved highly of this high octane flatulence rocket fuel and, tragically as we were to learn later on, ate it up with smiles on our faces and soup spoons in our mouths. Not much time went by  before the artichoke soup began doing its malevolent magic.
"Toot."
"Ripppppp."
"Snort."
"Kaflump!"
"Purrrrkup."
"Flubbbbbbbrrrrrrr."
Strangely, the entire Old Mcdonald's Farm cast showed up in full throat– "Here a pig, there a goat in a cart; here a cow, there a horse. Fart, fart fart." The resonance was amazingly melodious and slightly psychedelic, as if we had all taken LSD for dinner or hit the bong hard. Each toot was funnier than the last. We all regressed to being children on some level, fascinated with flatulent bubbles in the bathtub, laughing like stoned orangutans high on fermented mangoes. It was a bizarre predicament, a pickle barrel moment, as we considered, "Toot, toot, toot," that we had to go to an hour's service at church. How was that going to work?
Fortunately, fartichokes are all bark and no bite, so there was no scent trail, just burps of varying length, strength, timber, and melody. Perhaps fartichokes could have been the earliest form of cave man music. I imagined happy cave dweller families lounging around after a bowl or two, humming and then singing something like Sam Cooke's "Working on the Chain Gang"