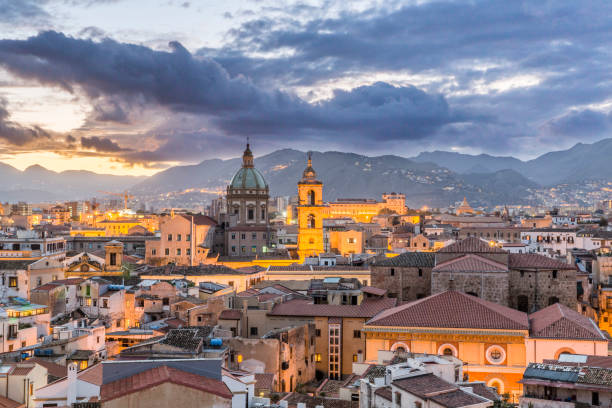 After the dinner wrapped up and most guests went upstairs to sleep, we slid over to the Canadians' table, Paul and Karen from Toronto, seasoned travelers like Gino and Susan. Name the place and they have been there multiple times. I've never met a rude Canadian by the way, and P & K were no exception to the rule. We shared another glass of wine with them and some warm stories about how we met our spouses and my wife's biological family story. We began to weave the fabric of friendship in simple strands, jokes, and yarns. They had preceded the group by several days in Rome and Palermo, so their jet lag had subsided while ours was still abuzz. The wait staff cleaned up around us until we toddled out at 10:30 p.m., happy as a glutton with fresh cheesecake in his mouth.
Breakfast was a widely diverse buffet that featured various meats and cheeses, croissants, fruit, pastries, eggs and bacon that was not smoked. Gino suggested espresso. In fact he had three or four. "I may be addicted", he added unnecessarily and self evidently. One of the few disappointments I experienced was the Italian coffee– it was weak and served with milk, no cream. I eventually followed Gino's lead with milky espressos in the morning. "Get your motor runnin'…." This theme rolled over onto the tour bus with our patient driver Massimo.
On the bus, on the bus we went for a tour of cathedrals. Sah rah warned us to be on time and use precision German time not Italian time. First out to Monreale, which overlooks Palermo sort of how Jesus overlooks the pews in this picture.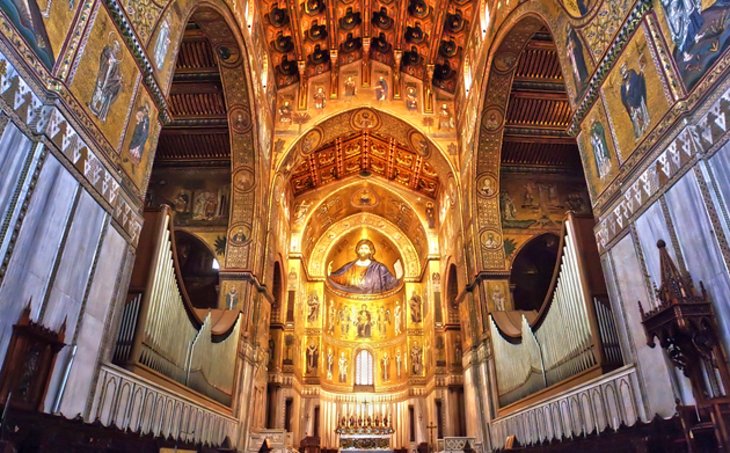 This is where words fail and things like music and art take flight into the metaphysical world. My humanness seemed to turn to talcum powder or the ash of incense in the presence of such holy majesty. My pride was voided as if I were singing in front of Andreas Botticelli. Only a fool cannot be still in such a glorious house of God.
We wandered about the hill top town of Monreale and all its steps. A craftsman was carefully making a mosaic of Jesus out of tiny broken tiles. We wanted to buy everything in the shop but showed some restraint. It was the first real day in Sicily and we had to count on suitcase space as well as making our euros match the next ten days' extra expenses. What was so impressive was the importing of great craftsmen from Medieval Constantinople to do the super intricate mosaics. Their tradition continues today.
"Sicily is like a lasagna", Sah rah said. "It has been invaded over and over again by Greeks, Muslims, Romans, Spaniards, the Normans, and others. Each adds some layer of their culture to Sicily. So it is diverse and delicious." Her words matched what we saw. In fact, later that day at the Palermo Cathedral she pointed out a passage of the Koran on a recycled column in the entrance. Amazing how in repeated efforts to conquer the island, the conquerors had actually fertilized its culture.
We found the Palermo Opera House, Teatro Massimo, and took the tour while singers were auditioning and dancers were practicing. It's one of the largest opera houses in all of Europe, rising up like a temple to the arts, featuring Greek muses sculpted outside.
Inside it rises up six balconies to accommodate 1,387 pairs of ears.
By evening time my wife and I were whipped. We strolled along the main shopping road and soaked in vibes that were off the guided tour path, aware that there were some pretty sketchy streets just off the tourist center. As our stroll ended at the open cafes, we looked to pick out a pair of seats for a drink and snack. As we did so, Gino and Susan beckoned us to join them as they finished up a huge fishy meal. So pleasant in the warm evening with our new pals. Gino impressed us with his fluent Italian. "I get by", he said modestly. Before I knew what was going down, he generously paid our tab. I figured I'd have to get up pretty early to catch this Indonesian worm. "Lunch is on us tomorrow." Off to the second night of Italian dreams.
On the bus, on the bus we headed out for Catania and the seaside hotel in Gardenia Naxos after a stop in Agrigento and the Valley of the Temples. Awe kept drying out my open mouth in the hot air.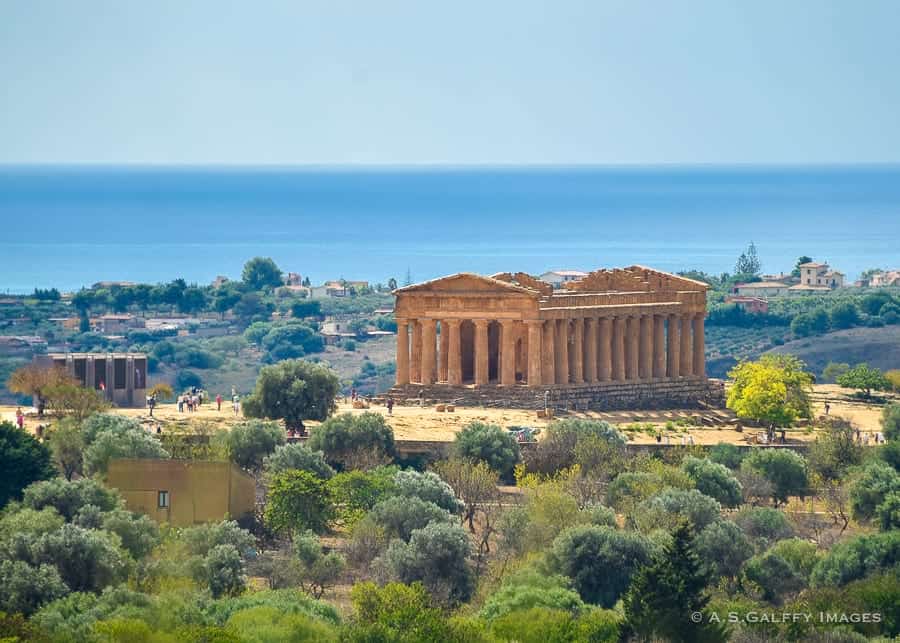 A fellow could lose his head in such hallowed ground.
A fashion show was going to be put on at one of the temples later that day, so a herd of workers were laying out ramps and lights throughout our visit. Big name designers were paying a princely sum for the backdrop. The hills and the sun combined to fatigue us and curtail our curiosity. But we were heading to the beach next and could not wait for a dip in the pool or the sea. Yeah, we arrived around 6 pm, just as they were closing the pool in order to prepare our outdoor buffet dinner. Oh, well, we dipped in the chilly Mediterranean instead. You just could not lose.
Another fun dinner and endless wine on the veranda with our new friends.  We were getting to know our fellow travelers and becoming more comfortable with jokes and stories and just the chemistry that develops among like minded, willing folks. If it weren't for the presence of Taormina up above this beautiful town, I would not have wanted to budge. Each town seemed to be a portal to heaven, only to be replaced by an even greater beauty. Taormina shone like a magic castle town in the indigo night with Mt. Etna's red glow in the distance. We could see both from our precious cove along the Mediterranean. It's hard to sleep when you are surrounded by such spectacular beauty, my friends.