This post needs some back story. Sir Gary of the Round Table of Coffee Nation has boundary issues. He mostly, but not fully, grew up around a farm in Cumberland County. He wrestled in high school and proudly wore the singlet for Big Spring High School back in the day. A gritty grappler, so he was. "Pound for pound," his former high school coach was fond of saying, "he was better carved than a honey baked ham." He also volunteered, "Gary was a half nelson ahead of mediocrity."
Post secondary school he wrestled for a state college program that was later shut down for NCAA violations that cannot be detailed in this venue without exposing myself to legal liabilities. Anyway and furthermore, Gary has photos of himself in the college singlet when he was cut and muscley, arms spread out like a bear about to maul the viewer.  It's weird, okay?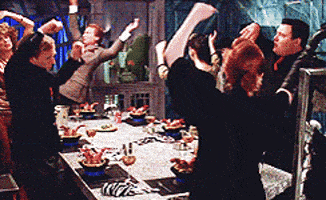 At this year's Christmas party over at Gary and Suzanne's house, we had a wonderful meal from appetizers to coffee and dessert. We discussed the critical work of Coffee Nation and the current topics of discussion. Gary repeated the story of the death of the Human Fly in Turtle Town back in the 1920's.
"The guy was climbing freestyle up the bank building. His assistant was supposed to hoist him up and into a fifth floor window with a rubber bicycle inner tube. Well, he was tired and the tube was old. It broke and he fell four stories to his death. It was a big deal." I confirmed the story's veracity since I was present when Joel pulled up the old story on his I-Pad and recited it to us in his authoritative, slightly sonorous lawyer voice. The rest of the dinner party guests tried to contain their outsider jealousy, unqualified as they were to join Coffee Nation since they were all gainfully employed.
Over dessert Gary gave me, only me, a poorly wrapped gift about the size of half a Hershey bar. I knew it was gonnna be bad, like last year's animal balloon kit and hand pump. I went along with the fun mood and opened the "gift". An icky, prickly feeling rose up all over as if my last sip of coffee had actually been ipecac syrup or strychnine. In my hand was a Christmas ornament picture frame with, you guessed it, Gary in his college wrestling singlet.
"I thought you'd want to hang that on your tree", he said. "I know you like guys in thongs."
I was speechless. The rest of the eleven party goers laughed at my discomfort and muted reaction.
"I was going through a box from college and I ran across a bunch of singlet pictures. I figured you'd want one. You know? Show the kids. Put it at eye level on your tree. Show off your good taste."
"I, uh, uh, aren't you gonna give all the guys one?"
"No. You're the Supreme Commander Potentate of the Coffee Nation. I felt you deserved one. I have more. Would you like another?"
"NO!!  I don't want this one. What if I get in a car wreck and this is in my car? What will the medics think?"
"I think they'll say, 'Man that wrestler was a beast!' They might even steal it for their tree. Want me to autograph it?"
"But, but, it's not a St. Christopher's medal. There is no protection implied or granted. It's gross!! I'm afraid of what it might bring me."
"Like what?"
"Uh, coupons to a gay strip club."
"Aaaahhhhhh, c'mon man." 
I went along with the laughter and left the man amulet on the table. Gary made sure to slip it into my coat pocket as we said good night. When I got home and emptied my pockets, I felt the grossness of the manulet staring at me. I turned it over. My wife asked me what I intended to do with it. I pondered my options.
"I know. I'll take it to Coffee Nation and give it to one of the guys. I'll double talk them into it like Gary did to me."
That was the plan. Next Coffee Nation Summit I put the manulet on the table for inspection and inspiration for the others. No one showed any interest in taking the bait. Gary told the story of his wrestling glory days. Finally my chess partner Eric showed up. Then it hit me. ' I can put this up for the "prize" in our next chess game, which was in thirty minutes. Loser wins. Oooh, that's genius.'
I showed Eric the man amulet and explained the rules of the game by way of a college bar fight story. "Two of my buddies and I were drinking long neck Buds at the Village Bar and Grille in Richmond. A few booths away two bikers sat with a drop dead gorgeous platinum blonde transvestite all made up like Marilyn Monroe. The bikers were getting drunk and loud. When I went to the bathroom, Marilyn was coming out of the men's room, hiking up her candy holster. I was stunned. A few minutes later the bikers started a broken beer bottle fight over the Blondestite."
Eric seemed confused. "Okay, but what does that story have to do with the manulet?"
"Pretty obvious, don't you think? The winner now is the loser later. You take the manulet home if you lose this chess game. So play as if your life depends on it."
We threw down. After each move, one of us would nudge the manulet closer to the other. Thank the Lord in Heaven that I won the game. That was a month ago. Eric has had legal custody of the manulet since then.
The problem is this: Eric leaves for Florida on Friday. Tomorrow we play our last chess game. The manulet's resting place will be determined for a long time to come. I have to win. I am not going home with that singlet drag queen again. "Oh the humanity!"
Update: I lost the first of three matches. Won the second. Yielded a draw while up a queen on the third due to time constraints. I took the manulet with me. It is burning a shameful hole in my back pocket as I type.
***Please take a moment to rate this post. Thanks.