Everyone has pulled off a sweater on a dry winter night and seen tiny greenish yellow sparks fly. Do not worry, kids. It's harmless static electricity jumping about from one fabric to the other. This results from the imbalance of positive and negative atomic charges. Let me explain for the layman reader:
if a proton goes shopping and runs up his Visa card balance on a bunch of electronics, like a big screen t.v. and a new cell phone, when the bill comes in the mail, his neutron partner will explode all over him for his ridiculous irresponsibility and selfishness.
She will defend the integrity of the atom to the fissionable end, even threatening to take the baby electrons with her in a nasty divorce if her protean husband does not take all that crap back to Best Buy right now. Now, the proton, being maleish, refuses to repent and return his new toys. He cites the literature about imminent domain, the 14th amendment, and male authoritarian leadership of the family dynasty. He pouts and says things that make no sense, simply fueling the neutron to further rain down sulfuric hell fire balls on him.
Rest assured, kids, sparks not only fly in the atomic marital gaps (like a huge welding shop on a federal contract.Pow!!) but it can become an electrical storm of a fireworks finale on the 4th of July. Frighteningly Frilling.
Each illuminated static electric pinprick is actually an electronic syllable as the proton is beaten down by the neutron at a rate of 18 to 1, roughly the exchange rate between the Honduran Lempira and the U.S. dollar. Whoops! in the time it took to Google that fact, the rate jumped to 23 to 1. It's not a fair match, mind you. No, more like a mugging by Muhammad Ali versus the pre-sparkle gloved Michael Jackson.
Now I know it's not right to mix metaphors and use entangled analogies, but that's where the fun is, Momma. If you stay on the beaten path, sure, people get your message in a safe, efficient manner; however, if you run through the brambles, you get all cut up and might find some fresh raspberries while the path plodders apply layers of Deep Woods Off. As you forge a new path, the safe ones roll on in their antiseptic hamster ball of protection. I don't know what that means, but I like how it sounds. However, at some core planet in your inner universe also coexists a form of static– the pops and sizzles of different synapses pounding out novel neural pathways, i.e., the static in the attic.
Back to the other static. In the real world mental static can build up inside the brains of arguing marital partners. When really it's just an imbalance of positive and negative atomic charges. Take the husband, for example. No, put him back. The husband may make some innocuous comment about the price of milk, for instance. Only to be met by a flurry of leading questions from the wife. "What do you know about food prices? When was the last time you went shopping. You don't even drink milk. Why don't you drink more water? Do you want to die of dehydration and leave me a young but unmarriageable widow?"
What do you do with that?  First, take a long, slow drink of water. Then deconstruct the mosquito swarm of interrogation with a cleverly relevant compliment. "Honey, you'd be more marriageable than Elizabeth Taylor if I should die of my stupid lack of hydration because I know nothing about shopping or milk. I am not worthy of your tender concern."
Well, that's unlikely to be uttered. But, if like a neutral cotton shirt grounds a charged polyester sweater in 8% relative humidity, the clever husband did utter such balderdash and calmed his long suffering wife, this would be an example of harmless grounding of static. Perhaps there would be a slight zap when either party reached for a bedroom doorknob, but that's a better outcome than the nuclear option.
You see there are actually at least two forces that hold together neutrons and protons in atoms. I don't expect you to believe me. I don't believe myself, so I Googled again.
As my chart makes clear, a proton and an electron will attract each other. The closer they are together, the stronger this attraction will be. Two protons (or two electrons) will repel each other. And again, the closer together they are, the stronger the repulsion. Now the nucleus of an atom is positively charged, while electrons are negatively charged. As a result, a nucleus will attract electrons. These electrons will swarm around the nucleus, and the result is an atom.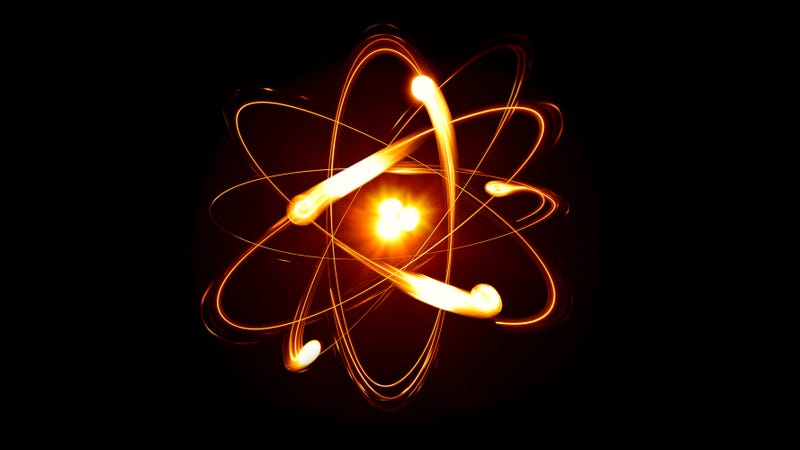 Hopefully by now it is becoming clear to the reader that men tend to run away from the nucleus while women hold it together with overwhelming nuclear energy known by physicists as quarky charm. The trick involves how many electrons (children) a couple has between them. Studies show that if a man has more than ten children with a neutron partner, he is just too tired to leave. He cannot break through the static bond created by ten kids swirling all around day and night. He's gonna be exhausted by brunch. The negative charge of the children cancels the positive charge of the proton dad, thus defaulting to the core nucleus being run by the supercharged neutron mom.
And that's static electricity. Next time I will explain gravity. Till then, I'm goin' to Jackson…
We got married in a fever, hotter than a pepper sprout,
We've been talkin' 'bout Jackson, ever since the fire went out.
I'm goin' to Jackson, I'm gonna mess around,
Yeah, I'm goin' to Jackson,
Look out Jackson town.
But they'll laugh at you in Jackson, and I'll be dancin' on a Pony Keg.
They'll lead you 'round town like a scalded hound,
With your tail tucked between your legs,
Yeah, go to Jackson, you big-talkin' man.
And I'll be waitin' in Jackson, behind my Jaypan Fan,